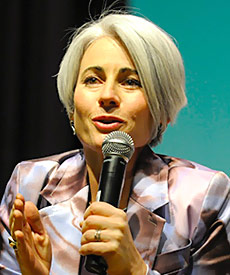 Eva Grayzel first told her story at the 2003 ADA National Conference on the main stage to 9,000 dentists. The response proved her story needed to be heard by every dentist and team member.
Since then, she has become the voice for oral cancer, speaking internationally at dental/medical and survivorship conferences on the patient perspective. She even delivered her one-woman show Off-Broadway.

Eva is the Founder of Six-Step Screening, an oral cancer awareness campaign whose success earned her Honorary Membership in the American Academy of Oral Medicine.
She is the author of two children's books to minimize fear and promote dialogue around cancer. She is the creator of 'My Story Legacy,' a guide to document personal stories, life values and wisdom.