On March 18 AIM President Daniel A. (Danny) Bobrow, hosted Carlo Biasucci, DDS, who shared an actionable blueprint for success in the Covid economy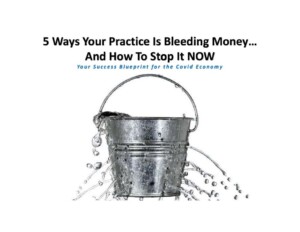 The "Covid Economy" caught everyone off guard. Yet, Dr. Biasucci maintains that the difference between success and failure continues to be more about methodical execution of proven systems than it is chasing "new" and "different."
After surviving an injury that almost ended his career, Dr. Biasucci was determined to change his practice from a beast of burden to a business that would allow him to live life on his terms. He took his already-successful $2.4 million dollar practice, tripled it in 3 years, and cut his work week in half.
He now spends 100% of his time sharing exactly how dentists across North America and overseas can get off the treadmill of trading hours for dollars.
Attendees learned why Elite Practice Members collectively outperform other consulting groups by a wide margin.
In his fast moving presentation, Dr. Biasucci stressed the areas where most dentists struggle are appointment conversion, case acceptance, and having and using accurate data. He debunked some rather widely held views among dentists including that most dental marketing resources should focus on direct mail, outspending ones competitor, Instagram, and other reactive strategies, in favor of an ongoing emphasis on internal dental marketing such as patient testimonial videos.
"Internal and external marketing are two wings of the same bird." Says AIM Dental Marketing® President Daniel A. 'Danny' Bobrow. "When one is maximizing patient value, the return on investment from external marketing sees a commensurate bump." Concludes Bobrow.
The Presentation's Agenda included:
Where to focus right now with your marketing budget
Easiest "holes in the bucket" to fix
Fastest ways to dramatically increase case acceptance
and
14 statistics every dentist should closely monitor
Biasucci's 4 pillars of practice success are Leadership, Systems, Training, and Marketing. He spoke about Team motivation and opined that, when the Team won't do what the owner wants, he/she should not give up, fire them all, or hire new staff but, rather, engage them to ascertain the reason(s), then lead and train them, and incentivize the desired outcome.
Key statistics Biasucci urged dentists to track included:average yearly value of a new patient, collections (stated as a percent), and conversion percent, by Team Member, of phone calls into kept appointments.
The Presentation concluded with a Q&A session during which were addressed topics including: details on cause marketing/community outreach; marketing metrics on which to focus; the importance of, and methodology behind, calculating Team Batting Average (appointment conversion rate); email cultivation (drip) marketing campaign set up and implementation; and telephone skills mastery.
The webcast ran around 90 minutes.