Quito, Ecuador
At 7:00 a.m. EST On Monday, December 14th, AIM Dental Marketing® President Daniel A. 'Danny' Bobrow, along with his six team mates, stood at the top of Cayambe, Ecuador's third tallest peak.
"The original plan was to summit Cotopaxi, not Cayambe, but Cotopaxi has been actively spewing smoke and debris of late, and the government wisely chose to close it to climbing for the foreseeable future." said Bobrow from his Chicago home.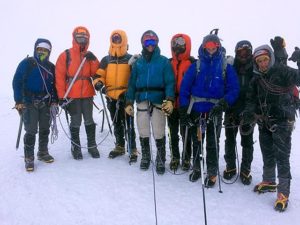 Cayambe Summit – Bobrow fourth from the left.
At 18,997 fee, Cayambe is the third tallest peak in Ecuador, behind Cotopaxi (19,342) and Chimborazo (20,670).
In the run up to the ascent, the team summited Pichincha (15,665), and Fuya Fuya (14,200), also located Ecuador.
Owing to an illness that dogged Bobrow shortly after arriving in Ecuador, he was unable to join the team in its successful summit bid of Chimborazo on December 17th.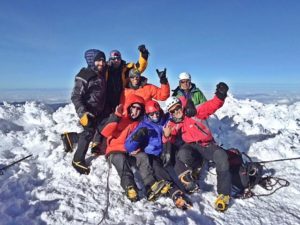 "I was thrilled to learn of the team's summit when news hit the blog." says Bobrow.