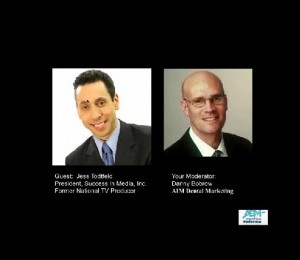 Hi everyone: If you're here to hear Jess Todtfeld, you've come to the right place!
Jess's presentation is entitled Get The Media To Do Your Marketing For You.   Jess is President of Success In Media, Inc.;  one of the leading business communication and media training authorities in the U.S. 
Jess works with people who want to create tangible results from presentations, speeches, and media interactions. Whether people want to generate more sales, or simply feel more comfortable and confident in front of the camera, Jess 'delivers the goods' to help them achieve their goals.
Jess has appeared on NBC, ABC, FOX, and Comedy Central's "The Daily Show."  While promoting his last book, he set a Guinness Record by giving 112 radio interviews in a single 24 hour period. He's here to give you solid information you can put into action TODAY.
I met Jess during our Speaker's Dinner prior to last year's Scientific Session of the American Academy for Oral Systemic Health on the Cleveland Clinic Campus.  He had so many interesting perspectives and insights about media coaching for the health professional that I knew we had to get him on the Series.   Because we spoke in the same time slot, I was deprived of the privilege of hearing him speak, so was particularly excited to hear what he had to say.
We were indeed fortunate that he agreed to spend some time with us.  And, if you like what Jess has to say, you will absolutely love the Special Offer he agreed to make at the end of  today's webcast.
The Event ran for about ninety minutes.  Questions were answered following Jess's talk.
Click here to view the webinar with guest presenter, Jess Todtfeld, Media Trainer and Consultant.